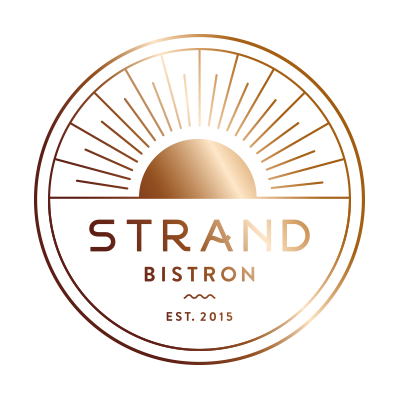 VINTERN BITER SIG FAST PÅ STRANDVÄGEN MEN VI HOPPAS PÅ SOL I PÅSK SÅ SES VI DÅ! VARMT VÄLKOMNA!
LUNCH

BISTRONS KÖTTBULLAR 165
rårörda lingon, gurka, potatispuré
Meat-balls, lingon-berries, mashed potatoes
CAESARSALLAD MED KYCKLING 165
krutonger, grana padano
Caesar salad chicken
RIMMAD LAX 195
dillstuvad potatis, citron
cured salmon with stewed potatoes
SESAMHALSTRAD TONFISK 315
pak-choi nudlar, koriander, cashew, lime- & ingefärsdip
pak-choi nudlar, koriander, cashew, lime-
GRILLAD BURGARE 225
cheddarost, chili-mayo, tomat & fries
Cheeseburger, chili-mayo tomatoes and fries
STEAK MINUTE 295
bearnaise, tomatsallad, pepparrot, fries
Beef, bearnaise, tomatoes, horse-radish and fries
TOAST SKAGEN 198
toppad med sikrom, citron & dill
Chanterelle toast
AVOKADO & HALLOUMISALLAD 235
med jordgubbar, rostade mandlar, balsamico
Avocado- and halloumi salad, strawberries, almonds
Smaklig måltid!
MIDDAG

KLASSIKER
GRILLAD BURGARE 225
cheddarost, chili-mayo, tomat & fries
Cheeseburger, chili-mayo tomatoes and fries
BISTRONS KÖTTBULLAR 198
rårörda lingon, gurka, potatispuré
Meat-balls, lingon-berries, mashed potatoes
RIMMAD LAX 235
dillstuvad potatis, citron
cured salmon with stewed potatoes
SESAMHALSTRAD TONFISK 315
pak-choi nudlar, koriander, cashew, lime- & ingefärsdip
Tunafish, noodles, coriander, cashewnuts, lime
STEAK MINUTE 295
bearnaise, tomatsallad, pepparrot, fries
Beef, bearnaise, tomatoes, horse-radish and fries
TOAST SKAGEN 198
toppad med sikrom, citron & dill
Shrimps toast
MELLAN
BISTRONS RÄKSMÖRGÅS 195
ägg, mayo, dill och citron
Shrimp sandwich
TAPAS SKÅLAR 175
Marinerade oliver, ost, kryddig korv
Olives, cheese, charcuteries
MIX MINI TAPAS 98
örtmarinerad kronärtskocka, pecorino, grillad paprika, oliver
Mini tapas, marinated artichoke, pecorino, grilled pepper, olives
SALLAD
AVOKADO & HALLOUMISALLAD 235
med jordgubbar, balsamico
Avocado- and halloumi salad, strawberries, almonds
CAESARSALLAD MED KYCKLING 198
krutonger, grana padano
Caesar salad chicken
SÖTT & SYNDIGT
IRISH COFFEE 185
kaffe, farin, grädde, Tullamore whiskey
Irish Coffee
DRYCK